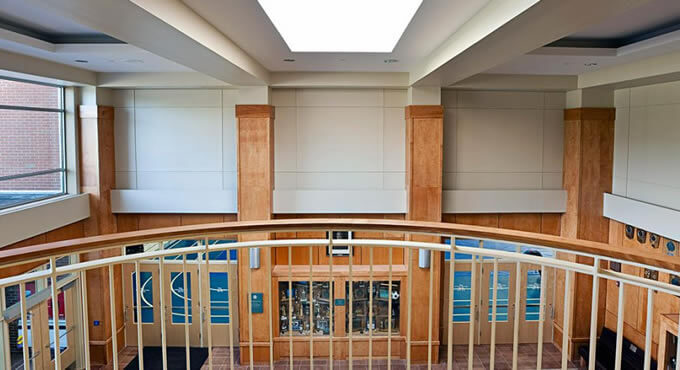 Project Overview
Name: Fryeburg Academy
Size: 60,000 sf combined
Location: Fryeburg
Designer: Sheridan Construction
The Phoenix Project: Sheridan Builds a Recreation Center and a Performing Arts Center at Fryeburg Academy
Fryeburg Academy, located in the foothills of the White Mountains, was incorporated in 1792, one of the first schools to be built in Maine. The school has been in its present location since 1853 and is known for its academic excellence and supportive, strong community.
When a fire broke out on October 12, 2005 and destroyed the 50-year-old Gibson Gym, the Academy was left without a facility for athletic and arts performances. The Fryeburg community rallied to create the Phoenix Project, an initiative that would build two new facilities, a field house for athletic recreation and a theater for performing arts.
A reputation for honesty and excellence
Because of their reputation for honesty and excellence, and their work at Thomas College in Waterville, Maine, the Academy hired Sheridan Construction to build the facilities. Harriman Associates, architects who had a long-standing relationship with the school, was chosen to design new facilities that would complement the school's historic campus.
Sheridan adds value engineering
Once Harriman delivered the design, Sheridan looked for places where value engineering could integrate Butler pre-engineered systems and conventional construction in order to deliver the most economical structure. In the end, Sheridan built state-of-the art, on-budget facilities in an expedited time frame.
In every conceivable way, Sheridan met or exceeded our expectations. They understood the unique needs of a private school, including our fund-raising and development requirements. These people are wonderful communicators, reducing surprises and extra costs to an absolute minimum. In the future, I know that Fryeburg Academy will turn first to Sheridan for our building requirements.

Daniel G. Lee, Jr.
Headmaster, Fryeburg Academy, Fryeburg, ME
Harvey Dow Gibson Recreation Center
Sheridan built the Harvey Dow Gibson Recreation Center, Fryeburg Academy's 45,000-square-foot facility that features a three-court field house, indoor track, lockers and offices, a wrestling room, and a well-equipped student and community exercise and fitness center in about 10 months.
Leura Hill Eastman Performing Arts Center
Sheridan built the Leura Hill Eastman Performing Arts Center, Fryeburg Academy's 15,000-square-foot performing arts center that features a theater with 380 wide-backed seats in an acoustically designed space in about 12 months. The stage has platforms on either side for rigging and lights, a lighting catwalk at the roof and state-of-the-art light and sound systems. The back of the house has dressing rooms, a green room and a scene shop to support the productions. In addition to the theater, there is a spacious lobby for social events, an art gallery, a classroom and office space for the director of the performing arts center.
Sheridan Construction was proud to work with Fryeburg Academy, Harriman Associates, and Butler® to construct the newest additions to the Academy's historic campus.