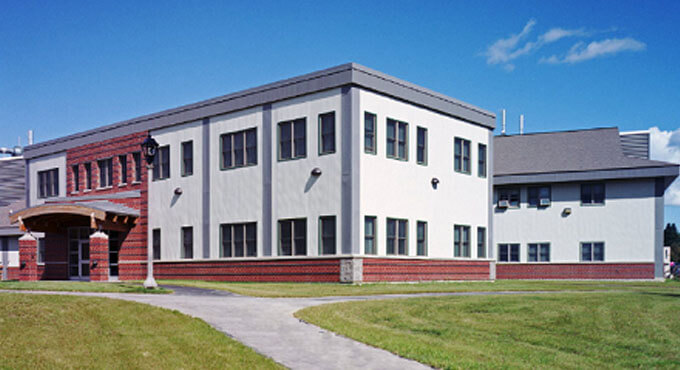 Project Overview
Name: University of Maine AEWC
Location: Orono, ME
Designer: WBRC Architects

The Advanced Engineered Wood Composites (AEWC) Center, located on the Orono campus of the University of Maine, is dedicated to research, education, and economic development focused on the material science and structural application of hybrid composites. The office expansion for the AEWC Center was constructed out of necessity to support the increased staff and growth of the wood composites laboratory and its mission.
In keeping with the mission of the lab, the entire structural system was constructed of wood framing with an emphasis on engineered wood products. The common areas, exposed to view, were constructed of heavy timber framing with tongue and groove planking. The exterior of the building is clad in brick veneer and steel siding to complement the existing structure. The entry canopy constructed of laminated wood arches was removed from the existing entrance and reused in its entirety.
Download the LEED Fact Sheet.