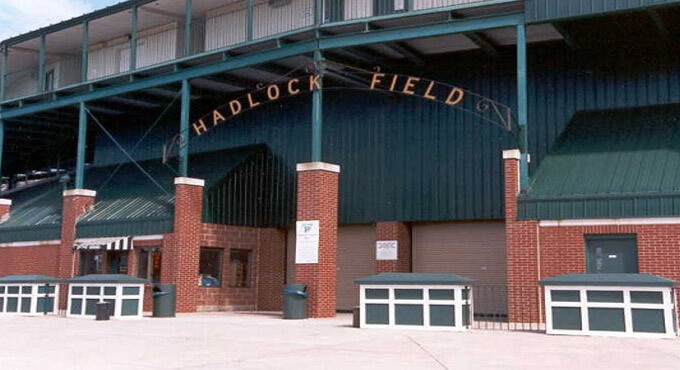 Project Overview
Name: Hadlock Field
Location: Portland, ME
Designer:
Sheridan Builds a Ballpark – Hadlock Field, Portland, Maine
Step into Hadlock Field, home of the Portland Sea Dogs, and you feel as though you've gone back in time, transported into the stands of a classic, old-time ballpark. But it wasn't always this way. When Portland, Maine, was awarded an Eastern League expansion franchise in 1992, Hadlock Field was just a high school ball field, complete with typical high school stadium seating. And the clock was ticking. Portland needed to build a professional ballpark, and they needed it fast.
Team approach
To build its professional ballpark, the city of Portland partnered with the Dant-Clayton Corporation and Sheridan Construction. The city completed site and masonry work, as well as plumbing and electrical. The Dant-Clayton Corporation designed and supplied the aluminum grandstand platform and seating. Sheridan was responsible for the design/build construction of the foundations, skyboxes and grandstand roof and walls. In addition, Sheridan supplied the grandstand's structural steel including the engineering, fabrication, and erection.
Challenges to overcome
Given the site's extremely poor soil conditions and further complications due to the presence of major sewer and water mains beneath the site, Sheridan engineers designed a unique monolith slab foundation. This approach avoided the cost and inherent risk of driving pilings into the ground and possibly damaging the city of Portland's vital utility infrastructure.
A successful public/private sector partnership
This high profile project faced an extremely tight budget and a compressed delivery schedule. To meet these challenges, the city of Portland, Dant-Clayton, and Sheridan worked in close cooperation, met on a regular basis, and in the end, exceeded the project goals. The project is an exemplary example of a successful public/private sector partnership.
The boys of summer
When the Portland Seadogs opened at the new and improved Hadlock Field in April 1994, Mainers rejoiced; the boys of summer were back.
Sheridan Construction is proud to have played a role in building Portland, Maine's, professional baseball park, Hadlock Field.