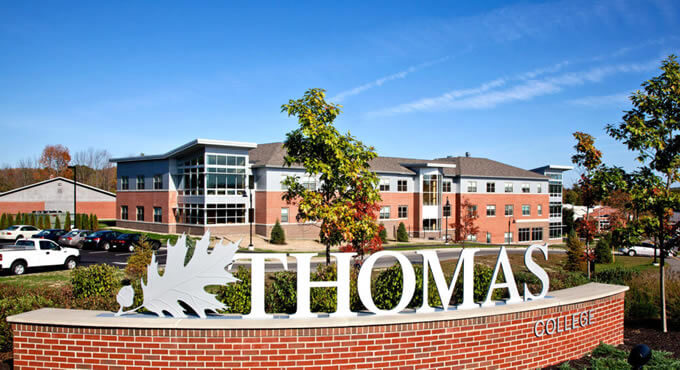 Project Overview
Name: Thomas College
Size: 35,000 sf
Location: Waterville, ME
Designer: Sheridan Construction
Sheridan Construction Builds a Campus – Thomas College, Waterville, Maine
Thomas College was originally established in 1911 as "Morgan-Thomas Business College." In 1970, the school teamed up with Sheridan Construction and built the first building at its current location, thus beginning the construction of the college's world-class campus on West River Rd., in Waterville, Maine.
Assisting the Capital Planning Staff in its Master Plan design, Sheridan Construction has contributed to all phases of campus design, permitting, and construction. Here's a recap of Thomas College's campus development.
Construction begins
1970 – Sheridan completes its first building for Thomas College, the Dining and Student Center.
1997 – Sheridan builds the physical plant buildings, Alumni Field, Ryan Baseball Field, and an atrium addition to the student center.
1999 – Sheridan teams up with PDT Architects to build what is now the Laurette Ayotte Auditorium, an 8,650-square-foot structure that contains a 300-seat auditorium complete with seating equipped with computer data connections.
2002 – Sheridan builds the Bartlett Student Residence Hall, a three-story, 30,000-square-foot resident hall designed by JSA Architects. The facility provides housing for 100 students in cluster style suites.
The Campus Master Development Plan is Completed
2005 – Sheridan helps the college complete its Campus Master Development Plan and handles the necessary permitting for the anticipated campus expansion. Construction begins on the Harold Alfond Athletic Center.
2006 – Sheridan completes the Harold Alfond Athletic Center. This 38,000-square-foot structure includes a multi-sport three-court surface, indoor track, plyometric rooms, lockers, fitness center, and a lounge.
2008 – Sheridan manages the construction of three town houses and a parking lot to accommodate a burgeoning student population.
2009 – Sheridan adds a Welcome Center and additional administrative facilities to the Laurette Ayotte Auditorium, which is renamed The Ayotte Center.
2011 and 2012 – Sheridan adds a 4,000-foot addition to the Dining and Student Center that includes new dining, meeting, and student lounge facilities. The new community center is renamed The George and Marty Spann Student Commons.
2014 – Sheridan completes construction of the Harold Alfond Academic Center, a 36,000-square-foot building housing a new library, commons, classrooms, faculty offices and a peer tutoring and mentor center.
The Harold Alfond Athletic Center
The Harold Alfond Athletic Center is the centerpiece of the Thomas College campus. This 35,500-square-foot athletic complex was designed as a recreation center for the student population and as an indoor training facility for the college's athletic teams. Orcutt Associates designed the shell of the building around Sheridan and Butler's pre-engineered structure. Architectural metal panels above the brick masonry compliment the adjacent structures.
The Ayotte Center
The Ayotte Center includes a 300-seat auditorium featuring state-of-the-art digital technology, lighting and audio systems. An intricate control system allows for stage, control room, and upper mezzanine level programming. Fifty of the auditorium seats are equipped with data jacks and power for laptop computers; an adjacent technology classroom is also wired with data jacks for computer hookups. Students, staff, and faculty use the Ayotte Center to greet campus visitors, as well as for concerts, student events, meetings, special events, and even a weekly Friday night movie. The Ayotte Center
Over the past five years, Thomas partnered with Sheridan on two new construction projects – a new 100-bed residence hall, and a 300-seat auditorium complex, plus two renovation projects – the Student Center and Dining Hall. Sheridan delivered superlative projects that have enhanced and enriched our college community. Sheridan worked on the building teams from the beginning of each project, assisted the College in keeping the costs affordable, and brought each project in on time, while producing quality structures that beautifully complement our campus.

Beth Gibbs

V.P. for Financial Affairs and Treasurer, Thomas College, Waterville, ME
Beautiful, economic and functional building solutions
It has been Sheridan's honor to help develop Thomas College's world-class campus by providing beautiful, economic and functional building solutions that meet and exceed the needs of the college's students, families, faculty, and staff.