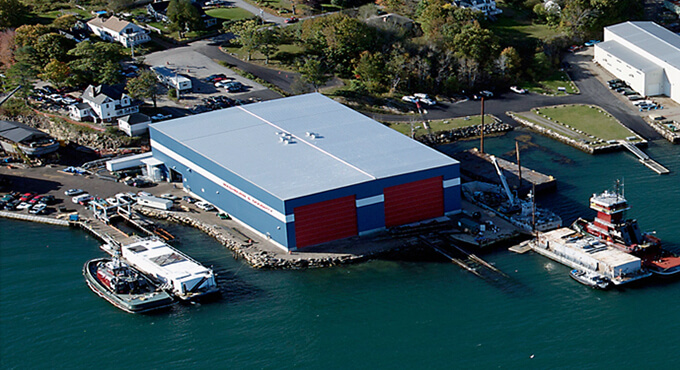 Project Overview
Name: Washburn & Doughty
Location: East Boothbay, ME
Designer: Sheridan Construction
Sheridan Construction Constructs New Facility Around Ongoing Tug Building Project
Washburn & Doughty has been designing and building fishing boats, barges, ferries, commercial passenger vessels and custom tugs since 1977. Before a fire broke out at their facility on July 11, 2008, the company had experienced steady growth and was about to expand; the owners had been working with Sheridan Construction and were about to break ground on a new building addition.
No time to lose
At the time of the fire, Washburn & Doughty had two tugs under construction, and the company was under contract to build two more. There was no time to lose. Before the fire was even out, the owners were making plans to finish the tugs under construction and rebuild their facility. Unfortunately, because the company is located in East Boothbay on the mid-coast of Maine, that meant building the tugs outside during the cold winter months until a new building could be completed.
Coordinated blasting, pile driving, rock anchor installation, and foundation placement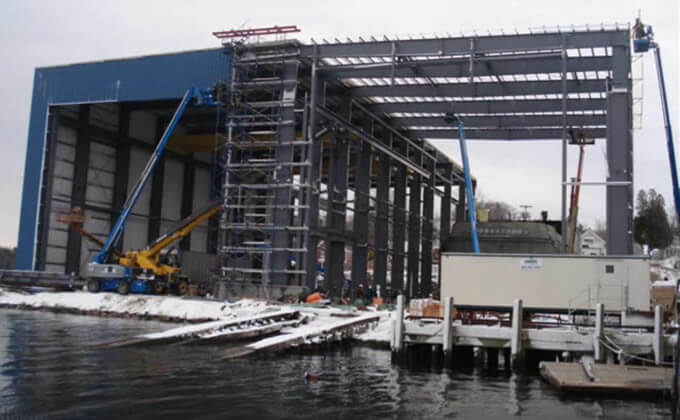 Sheridan got right to work removing debris and helping to revise the construction plan. The new strategy would allow the facility to be constructed in phases while production resumed on the two tugs in progress and began on two new tugs under contract. Construction supervisors coordinated blasting, pile driving, rock anchor installation, and foundation placement so that one of the tugs could be built within the new building footprint.
A collaborative effort
The collaborative effort between Washburn & Doughty and Sheridan Construction allowed the shipbuilder to get employees back to work while their modern and more efficient facility was being built.
In the end, Sheridan Construction designed and built two large construction bays, each with two 20-ton bridge cranes and three stories of fabrication support mezzanines running down the center of the building.
To see a time-elapsed video of both the tug and facility being constructed, click arrow on video.
Launch!
When Washburn & Doughty launched the CATHERINE C. MORAN on August 12, 2009, Sheridan employees were there to witness the launch and to celebrate the completion of a true team effort, and a job well done.