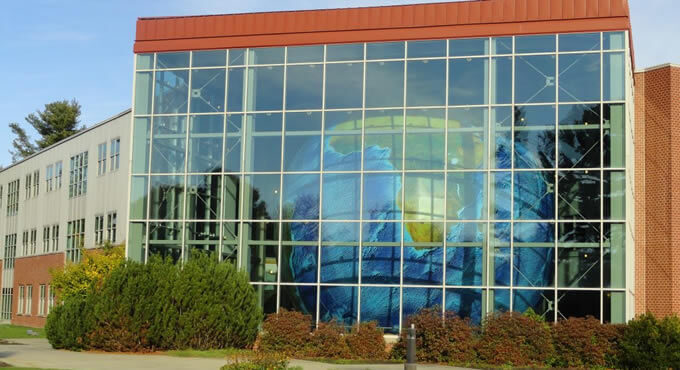 Project Overview
Name: Global Village
Size: 100,000 sf
Location: Yarmouth, ME
Designer: PDT Architects
Sheridan Construction Corporation Designs and Builds Global Village Headquarters in Yarmouth, Maine
For the new international headquarters of his mapping and GPS company, David DeLorme envisioned the world's largest revolving globe showcased in a three-story glass lobby. In addition to the 42-foot diameter globe (now a Maine icon affectionately named "Eartha"), he envisioned a retail store, 50,000-square-feet of office space, and 37,000-square-feet of warehouse space.
Why did Global Village choose Sheridan Construction?
To execute his vision, DeLorme needed a design and construction team with a can-do attitude and the wherewithal to overcome the design, permitting and construction challenges his project faced. After reviewing the bid proposals, DeLorme chose Sheridan Construction's design/build team, which was comprised of their own experienced, highly skilled design, fabrication and construction specialists, PDT Architects, and DeWann Associates Civil Engineers.
Challenges and Solutions
There were many challenges to overcome, but one of the trickiest was figuring a way to showcase a three-story, 42-foot globe in a town that enforced a 40-foot building height restriction.
The solution? The Sheridan Construction team designed and constructed a recessed pit to house the globe's base. In addition, along with Butler Manufacturing engineers, Sheridan Construction's in-house structural engineers created the unique glass atrium building with open stairs and mezzanines for viewing the three-dimensional, rotating and revolving scaled Eartha.
Once the first challenge was solved, engineers needed to control the amount of solar heat gain in the building to minimize the required cooling loads for the HVAC system. The solution? The full-height curtain walls were glazed with a reflective glass.
Finally, distribution of power, voice, and data cabling was necessary throughout the building in order to provide maximum flexibility for moving office components and IT services. To meet this requirement, Sheridan Construction incorporated an overhead grid system that allowed for the installation of office partitions with a maximum distance of 12 feet to power and data connections.
Ribbon-cutting
On July 23, 1998, David DeLorme welcomed visitors to his company's new international headquarters in Yarmouth, Maine, where he unveiled the rotating and revolving three-dimensional Eartha, which represents the earth as seen from space.
"Eartha is the largest image of the earth ever created," said DeLorme. "Eartha will instill a sense of wonder in people when they first see it, and we hope they walk away from it with a better appreciation and knowledge of the world around them."
In 1999, the Guinness Book of World Records gave Eartha the title of "World's Largest Revolving/Rotating Globe," a title that still holds today.
Sheridan Construction is proud to have contributed to this fine example of successful entrepreneurship, vision, determination, and pure Yankee ingenuity.
Update – February 2016
In February 2016, Maine's iconic mapmaker DeLorme was acquired by global GPS giant Garmin, Global Village owns the real estate. DeLorme, based in Yarmouth, Maine produces digital maps, mapping software, and GPS systems, and is widely known for the iconic Maine Atlas and Gazatteer. Their products will continue.