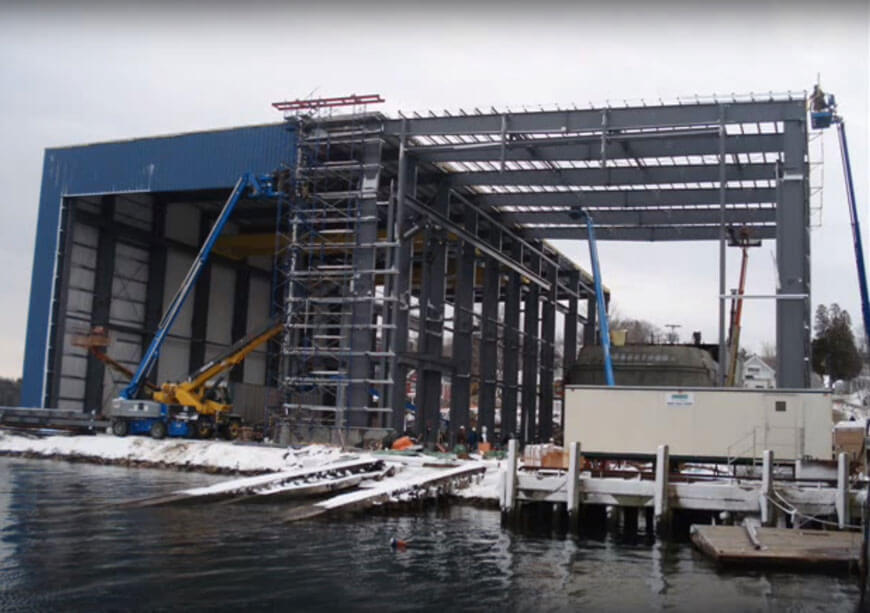 From Ashes to Advancement: The Washburn and Doughty "Build-Over" Project
It's not often that a fire sweeps through a project site when only weeks away from starting construction. Sheridan Construction had been working with Washburn and Doughty, the commercial boat builder in East Boothbay, to build a new, modern addition to their aging fabrication facility, when sparks from their shipbuilding equipment caused a catastrophic fire.
But things only came to a roaring halt for a short time. When we learned about the fire and it was clear that everyone was safe, we worked quickly to offer some viable solutions. As soon as Washburn and Doughty was ready, we set up alternate plans with them to re-build and expand their shipbuilding facility, and to do it while they were still manufacturing boats so they could keep their crews working and not lose additional revenue.
Sheridan Construction has a long history working with customers to find the best, most economical solutions that meet their commercial construction needs, including assistance with disasters like fire. We are able to do this through our solid working relationship with Butler Buildings – who like us, will do all they can to help a company get back in business sooner rather than later. The Washburn and Doughty project is a perfect example.
Six months before the fire we had configured an addition to provide a larger space for custom tugboats, fishing boats, ferries, barges and commercial vessels to be constructed. Our engineers had designed the footprint of the building and Butler was preparing to ship the pre-engineered building. But within a month of the fire, we were not only removing debris, we had new plans underway to redesign the foundation and double the size of the entire building.
But the key was to do this without disrupting their ongoing operation, in spite of the damage from the fire. At the time, Washburn and Doughty had two tugs under construction, which were top priority. Sheridan Construction worked with that and did something different. We actually built their facility in two halves – half over the boat they were building, and half beside it. This was not easy to do being surrounded by water on three sides in the middle of winter, but with reliable resources and steady cooperation, the "build over" project was successful.
It was a collaborative effort between the Washburn and Doughty and Sheridan Construction craftsmen who worked together seamlessly in trust, timing and safety. The one-year revised project was even completed within the original projected time frame. Sheridan Construction was on site to witness the launch of their newest tug in August, 2009 and celebrate the completion of the project.
Sheridan Construction and Butler Buildings can help ease the strain in the case of emergencies, and fast track your project, all while maintaining flexibility and reliability. When circumstances change, as they often do, you can count on us – "because there is a difference".