Program Spotlight
Construction Technology
MMTC instructor Jason Whittemore's Construction Technology students will embark on this year's NCCER core curriculum.  The students decide to venture down the path of finish carpentry (cabinet construction, custom moldings) or residential construction (reading blueprints, rough framing). We caught up with three of our 2022 graduates working right here in Maine for Sheridan Construction Corporation.
Brayden Wilson
After a field trip to Sheridan Construction in the fall of 2021, generously funded by the MELMAC Education Foundation, 2022 graduate Brayden Wilson decided to apply to MMTC's offsite work program to spend class time working with a local company. Wilson expanded his learning with Sheridan during his senior year at the center. We met Wilson at his job site in Waterville.  When asked about his experience as an intern at Sheridan. Wilson shared, "It was a great place to start, everyone on the team was welcoming.  My two years at MMTC helped a lot." Not only did the internship allow him to develop a relationship with a local business, it also provided him with an opportunity to apply the skills he learned at MMTC. In the classroom, he learned vocabulary relating to the construction industry and because of this foundation, he started to master the language of construction.  He was able to learn the process to get the job done.  He added that this knowledge allowed him to "think critically" and feel like he had "something to bring to the table."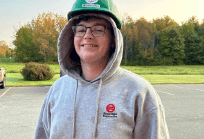 Wilson's efforts did not go unnoticed. He was hired before graduation, working part-time after school and during school breaks.  When Wilson's studies began at KVVC, Sheridan continued to accommodate his need for a part-time schedule.
Dylan Hapworth, workforce development coordinator at Sheridan Construction stated that the company's president, Dan Wildes has taken an innovative approach to finding the next generation of construction talent. By being flexible and open to hiring college students interested in working part-time, the company can offer opportunities to serious applicants seeking a career in the construction industry.
One of Wilsons's direct supervisors Chad Tompkins shared, "He is enthusiastic, always thinking ahead to the next step, first to get started, courteous questions the 'why' behind the work he does, wanting to understand the process and always willing to learn."
Jack Harris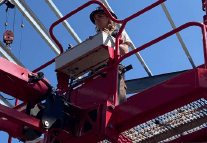 At his job site in Winslow, we checked in next with Jack Harris. When asked what set MMTC apart from traditional high school, Harris quickly responded, "My whole life I always felt that school was not for me until I got to MMTC. All of a sudden with the tools in my hands I said to myself 'wait I CAN do this'." Harris recalls a past project where he was tasked to figure out how many studs to use along one of the walls in the class-built house. Visualizing the project, he found he could use the formula and do the calculations as "MMTC teaches you to see your own value."
Randy Kervin, supervisor, met Harris when he started at Sheridan as an MMTC intern.  Kervin noticed from the first day, "Harris showed up his tool belt loaded with tools, ready to work." As a result of his dedication, Harris was hired before he graduated. Steve Dumais, Harris' supervisor asked, "Do you have a hundred more like him? We will take them. Harris is eager to learn, pays attention and he catches on quickly. He is always on time and stays until everything is done.  He is personable and professional."
Ethan Witham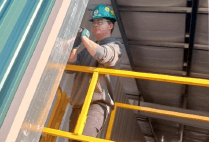 Within Sheridan's crew, we find another MMTC graduate, Ethan Witham who spent two years in the Electrical Technology program. The center connected him with multiple companies matching the skills he developed. When we spoke with Witham about his career at Sheridan, he noted, "I enjoy learning different skills at new job sites. My favorite place so far was working on a roof in Fairfield." He had this to say to the current students at MMTC, "Learn as much as you can to prepare you for life after high school."
Mychal Hunter, Witham's supervisor said that Witham is a hard worker, shows up and is "not afraid to get dirt under his fingernails." He also remarked, "He is a team member from the younger generation who will definitely find success in the construction industry because of his willingness to work hard and learn."
Scott Amos, a 37-year employee at Sheridan added that Witham, "is a great guy, is willing to learn new skills with each job." He shared that Witham "has traveled to different job sites as far away as Rochester, NH, always showing up ready to work. I can see him moving up with the company and making it a career if that's what he wants."
MMTC & Sheridan Construction Partnership
President Dan Wildes closes our interview stating, "The partnership with MMTC has great value for Sheridan. We are grateful for the opportunity to meet ambitious and eager people that want to grow with us.  Sheridan offers a rewarding career with personal and professional development opportunities right here in Central Maine. We know that MMTC's efforts are setting up their students for success and we look forward to being a part of those success stories.