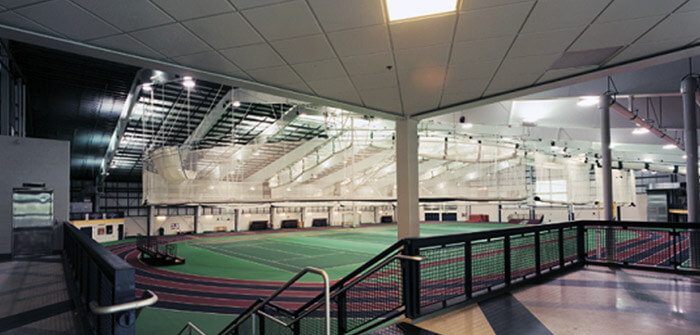 Hadlock Field, DeLorme, Fryeburg Academy, Thomas College, Goodall Hospital, USM's Costello Sports Complex, Enercon Technologies…
The question is: What do these buildings have in common?
The answer: Each is the result of a one-team collaboration between the client, Sheridan Construction, and a local architecture firm.
Highest quality products and the highest level of service since its early days
The Sheridan Construction has had only one mission—to serve clients by delivering the highest quality products and the highest level of service. Just as Lyle Cutchin believed, current owners Brad Nelson, Mitch Sammons and Dan Wildes believe that utilizing a one-team approach—composed of many people including client, architect, engineer, and contractor—rather than a multiple-team approach, is the best way to design and construct buildings. While Sheridan Construction is a design/build company with its own in-house design and engineering teams, the company also works closely with architectural firms such as HKTA/Terrien Architects, Harriman Associates, DGC Architects, and Michael Hogan of The Main Group to build projects throughout the state of Maine.
How does the one-team approach work?
How does the one-team approach work? The corporate headquarters of Enercon Technologies is a perfect example.
The Enercon project was an intense collaboration between Enercon, Sheridan, and HKTA/Terrien Architects. The building, which included highly sophisticated electrical and mechanical systems, was the culmination of 74 design meetings between the three companies. While HKTA/Terrien planned the space and designed the exterior of the building, Sheridan Construction value-engineered the project and figured out the best way to detail, design, and construct the building in order to deliver the best quality and best price.
An old idea
The one-team design/build approach is not a new idea. In fact, it's a very old idea with roots that date back to the 1800s. As was done way back when, for the Enercon project, HKTA/Terrien and Sheridan combined crews and acted as one mind to best serve the client. Both parties were focused on delivering the most effective and efficient space and design. This collaboration allowed an unsurpassed level of analysis that resulted in a cost-effective, state-of-the-art, visually pleasing corporate headquarters for Enercon Technologies.
70% of Sheridan's business comes from repeat clients
In the end, whether Sheridan designs and builds a project, or collaborates with a local architecture firm, the company's mission and work ethic stays the same: to best serve the client. And since over 70% of Sheridan's business comes from repeat clients, it appears that the company's dedication to a one-team approach has been successful indeed.