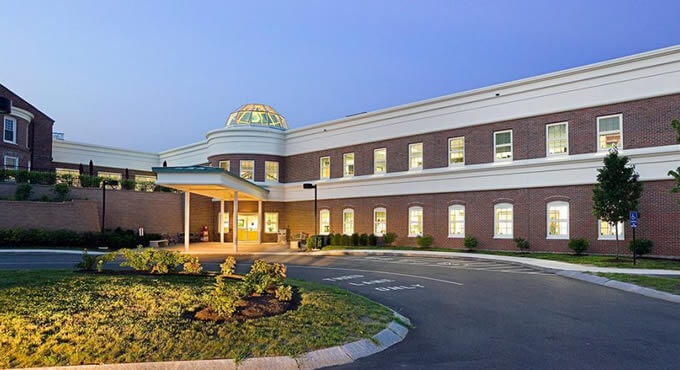 Project Overview
Name: Goodall Hospital – Sanford
Size: 50,000 sf
Location: Sanford, ME
Designer: Sheridan / Grant Hays Assoc. / Lavallee Brensinger Architects
Sheridan Construction designs and builds a 50,000-square-foot, two-story addition onto a historic 1927 hospital wing at Goodall Hospital in Sanford, Maine
Administrators at Goodall Hospital in Sanford, Maine, were looking to build a modern, condominium-style medical office building that would be attached to the historic hospital. The team worked on various design and construction plans, but until they met with Sheridan Construction, they had been unable to meet the hospital's budget criteria. Sheridan's design and build team analyzed the project and offered an alternative approach that would use a modified "hybrid" Butler pre-engineered building system to bring the project in line with the hospital's design and budget parameters. Delighted with the innovative solution, Goodall Hospital awarded the contract to Sheridan, and at long last, the project was underway.
Large, bright medical suites
Sheridan's final design delivered large bright medical suites for family medicine, obstetrical and gynecological practices. Each suite consisted of exam and procedure rooms, small labs, private offices with conference rooms and work areas for clinicians, nurses and secretarial staff. One suite had eight separate care providers so the room layout was arranged in team orientations to make best possible use of the space while creating an efficient and pleasant patient environment. In addition to the physician space, the hospital retained suites for Imaging, Endoscopy, Pain Management, and a Pharmacy that would be open to the public. Finally, Sheridan's plan brought the entire hospital campus up to D.E.P. regulations..
Condominium-style ownership, varying finish requirements
Goodall's Medical Office Building was based on a condominium-style ownership. Several physicians had purchased suites, and the hospital retained several units, including an outpatient surgery suite that was designed by their own architect with full hospital-grade finishes. To accommodate the owners, Sheridan treated each suite as a separate project.
In order to minimize disruptions to the ongoing business of the hospital, Sheridan used temporary construction walls to protect existing office space and used an unoccupied office to open onto a new corridor that connected the buildings.
Goodall retains Sheridan to complete additional renovation projects
After Goodall's medical office building was completed, hospital administrators retained Sheridan to complete several additional renovation projects. One of these projects was a complete renovation of the hospital's acute care wing, two rooms at a time while the rest of the wing was in full operation. Sheridan's courteous construction craftsmen worked with medical staff and patients to ensure that infection-control protocols were in place at all times.
Sheridan Construction was proud to design and build the addition and renovations at historic Goodall Hospital in Sanford, Maine.
For a project of this complexity and scale to be finished in that short amount of time is a true testament to having a focused and determined team all the way around. This is further backed up by the fact that DHS had no "to be fixed" comments on the space!

Jeff Galvin, Assoc. AIA, LEED AP, Lavallee/Brensinger Architects for Goodall Hospital Outpatient Care Center, Sanford, ME