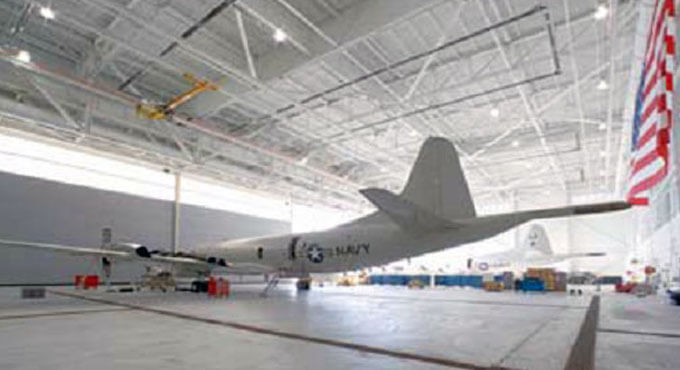 Project Overview
Name: Brunswick Naval Air Station, Hangar #6
Size: 19,000 sf
Location: Brunswick, ME
Designer: Butler Heavy Structures
The United States Navy partnered with James N. Gray, Sheridan Construction, and the Butler Heavy Structures team to construct a new Aircraft Maintenance Hangar.
The erection of (2) 377-foot wide by 47 feet tall hangar door openings proved to be an extremely difficult process. Due to the weight, the steel box headers for the doors had to be installed in 4 sections, with the use of Sheridan fabricated erection towers to support each section. Each section was carefully positioned to allow for camber in the headers, allowing the steel to settle into a flat plane. The weight of the largest section during this erection was over 1,000,000 pounds.
Throughout the course of this project, Sheridan was responsible for the self-performance of the structural steel erection, decking, liner panels, and walls.